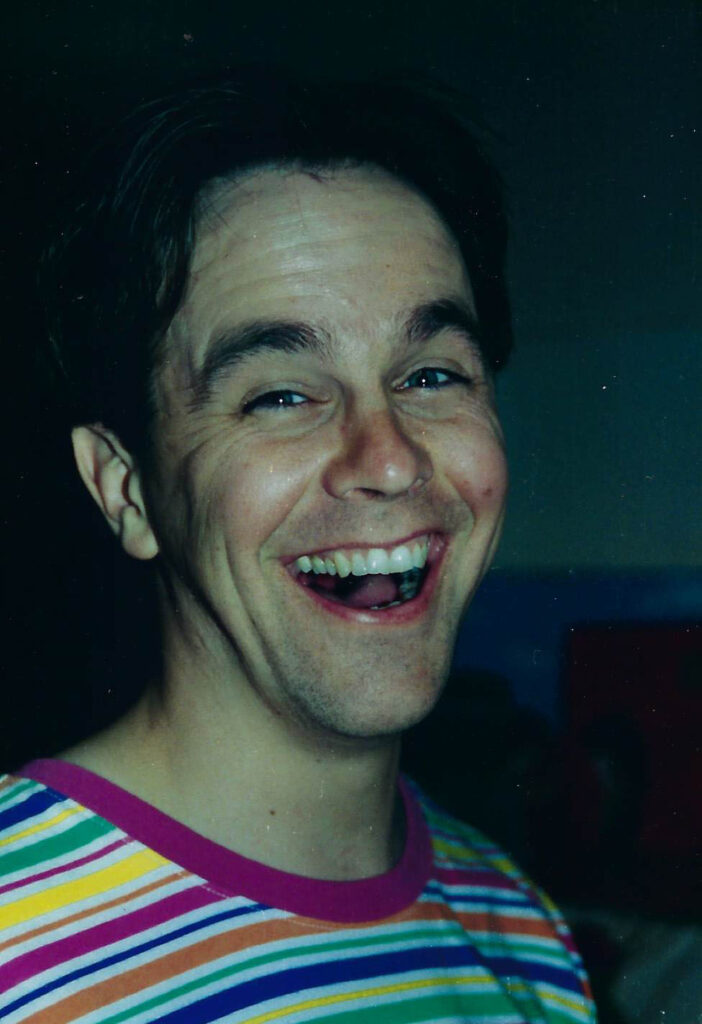 Eric Conly was one of the founding members of Dangerous Neighbors and a friend I have known since grammar school. He tragically succumbed to a brain tumor on January 20th. Our artistic collaboration and friendship were deeply entwined.
I did most of the writing, but Eric produced all of our early shows, and he had a marvelous sense of what material would work well together to create a satisfying production. He often helped me finish scenes that were three quarters done by conceiving a sharp tag line or a twist that would cut the scene off at just the right moment. He also came up with great ideas for sound cues that enhanced scenes in ways I could never have imagined. Additionally he wrote and recorded songs for scenes that were hilarious and always well produced.
But he especially shined as a performer. His dead pan baby face and understated style stole countless scenes. Although he was just three years younger than me, his youthful appearance made him completely convincing when playing my son or a student or a kid. He was also lethal in drag and drew roars from audience members of both sexes when playing myriad female characters. Many female audience members expressed envy over his gorgeous gams.
He was selected one of five artists to watch by the Santa Cruz Metro in 1999, which described him as "a theatrical mastermind with comic timing galore and physical attributes that allow him to shapeshift into characters socially inept, satirically dignified or painfully everyman." If you want to enjoy his work, check out his laid back California Jesus in "The Second Going" on the video page of this site, or his swinging suburban housewife in "Sunfish."
Eric died from Glioblastoma, the same type of cancer that killed Senators John McCain, Ted Kennedy and President Biden's son Beau. It's a disease that kills about 15,000 people a year and slowly debilitates its victims. I honestly never heard Eric complain after he received his diagnosis, and he did everything he could to make his passing easier for his wife and children, the rest of his family and all his friends and colleagues. I will never forget him.