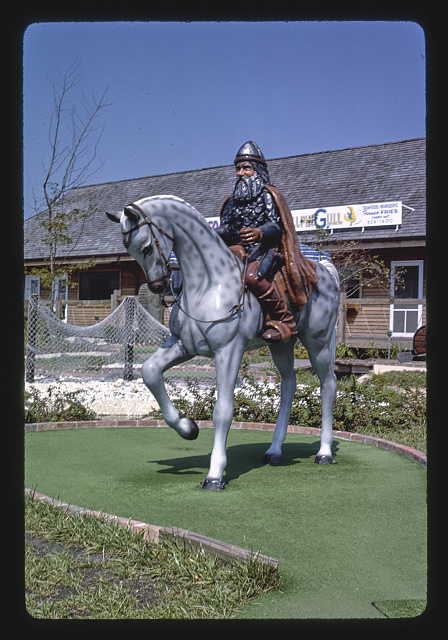 After a nine month undercover investigation, police in New York have arrested miniature golf magnate Dietrich von Holst for money laundering and racketeering. The mercurial von Holst has been charged with using Dietrich's Miniature Golf Valhalla, his Wagnerian Opera-themed mini golf chain with courses throughout the country, as a front for laundering millions of dollars acquired through the drug trade, prostitution, extortion and elementary school magazine subscription sales.
Von Holst initially raised suspicions because his chain seemed to be the preferred mini golf option for a cavalcade of organized crime figures in recent years. In 2014, a meeting of the five families took place at von Holst's New York flagship mini golf course, and a Gambino crime family associate was killed during an altercation at the difficult 12th hole known as "Brunehilda's Berm."
Von Holst, 72, was born in Buenos Aires, where his father relocated from Germany at the end of the Second World War. He moved to the United States in 1969 and found work at the Babylonian Gardens Putt Putt Course in Buffalo, New York. He quickly learned the business and set out to start his own. Dogged by rumors of his father's Nazi past, von Holst built and ran his miniature golf empire with an iron fist according to many former employees of the organization.
Von Holst courted controversy in 2017 when he hosted the "You Will Not Replace Us" Miniature Golf Tournament, a competition between the best "alt-right" miniature golfers in the country, some of whom were accused of being Neo-Nazis. Von Holst later claimed he did not know what "alt-right" meant, but former employees have said his National Socialist leanings were apparent to them.
Investigators discovered that von Holsts' chain was raking in hundreds of millions of dollars more than its nearest mini golf rivals and that night couriers had been delivering large bags of cash to various franchises around the country. The money then went into shell companies co-owned anonymously by mobsters, Neo-Nazis, and elementary school magazine sales gangs.